2019 Pilote -
pacific

Motorhome
CHOICE
5 vehicle lengths
10 different layouts
17 versions available (Essentiel + Sensation)
Nearly 100 customisation options.
STORAGE CAPACITY
Large number of storage areas adapted to your needs
Skirt locker (optional on Essentiel and standard on Sensation)
Independent lowered and insulated storage unit for easier loading with height adjusted under central bed (optional).
COMFORT
Well-designed, practical and attractive interiors with the best layout on the market
Warm, inviting lounge with up to 6 seats
Large worktop in kitchen
Twin beds, low or high option, with space for a bed measuring 170x205cm (optional).
TECHNOLOGY
Xperience tablet for managing the autonomy of your motorhome with ease
Motorhome certified "Class 3" by Truma®: the highest level of insulation on the market.
| | |
| --- | --- |
| Price including OTR (from) | £48,565 |
| Length (m) | 5.99 |
| Legal seats | 4 |
| Eating places | 5 |
| Standard berths | 2 |
| Additional berths | 1 |
| Load capacity Essentiel | 850 |
| Load capacity Sensation | - |

| | |
| --- | --- |
| Price including OTR (from) | £49,769 |
| Length (m) | 6.49 |
| Legal seats | 4 |
| Eating places | 5 |
| Standard berths | 2 |
| Additional berths | 1 |
| Load capacity Essentiel | 730 |
| Load capacity Sensation | - |

| | |
| --- | --- |
| Price including OTR (from) | £49,769 |
| Length (m) | 6.49 |
| Legal seats | 4 |
| Eating places | 5 |
| Standard berths | 2 |
| Additional berths | 1 |
| Load capacity Essentiel | 730 |
| Load capacity Sensation | - |
| | |
| --- | --- |
| Price including OTR (from) | £51,392 |
| Length (m) | 6.95 |
| Legal seats | 4 |
| Eating places | 5 |
| Standard berths | 2 |
| Additional berths | 1 |
| Load capacity Essentiel | 660 |
| Load capacity Sensation | 610 |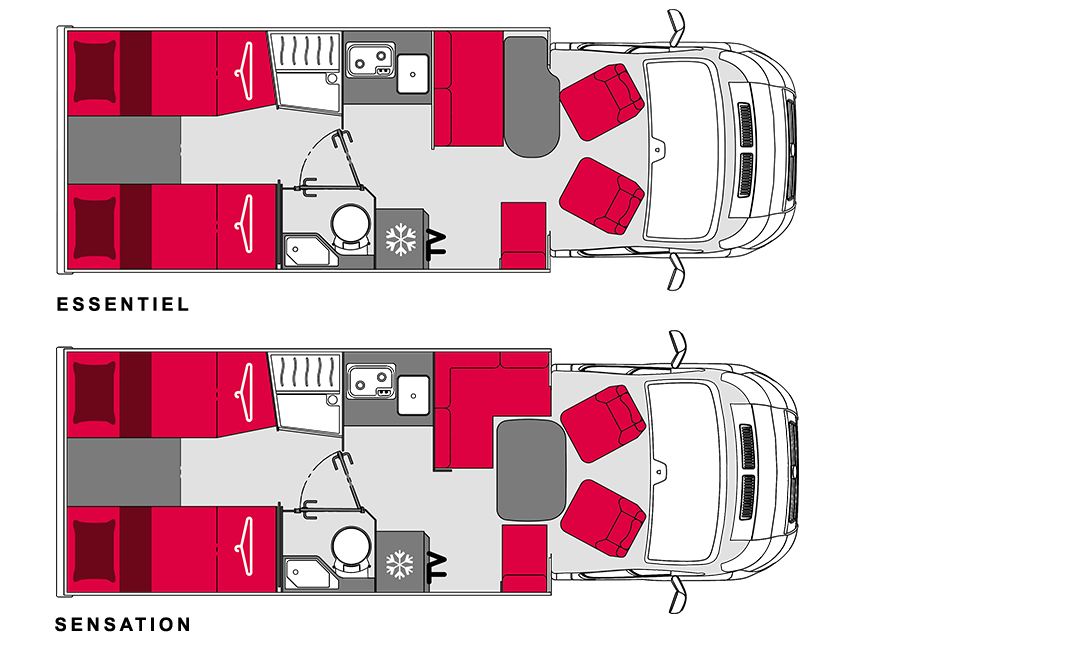 | | |
| --- | --- |
| Price including OTR (from) | £51,392 |
| Length (m) | 6.95 |
| Legal seats | 4 |
| Eating places | 5 |
| Standard berths | 2 |
| Additional berths | 1 |
| Load capacity Essentiel | 660 |
| Load capacity Sensation | 610 |

| | |
| --- | --- |
| Price including OTR (from) | £52,334 |
| Length (m) | 7.15 |
| Legal seats | 5 |
| Eating places | 6 |
| Standard berths | 2 |
| Additional berths | 2 |
| Load capacity Essentiel | 620 |
| Load capacity Sensation | 570 |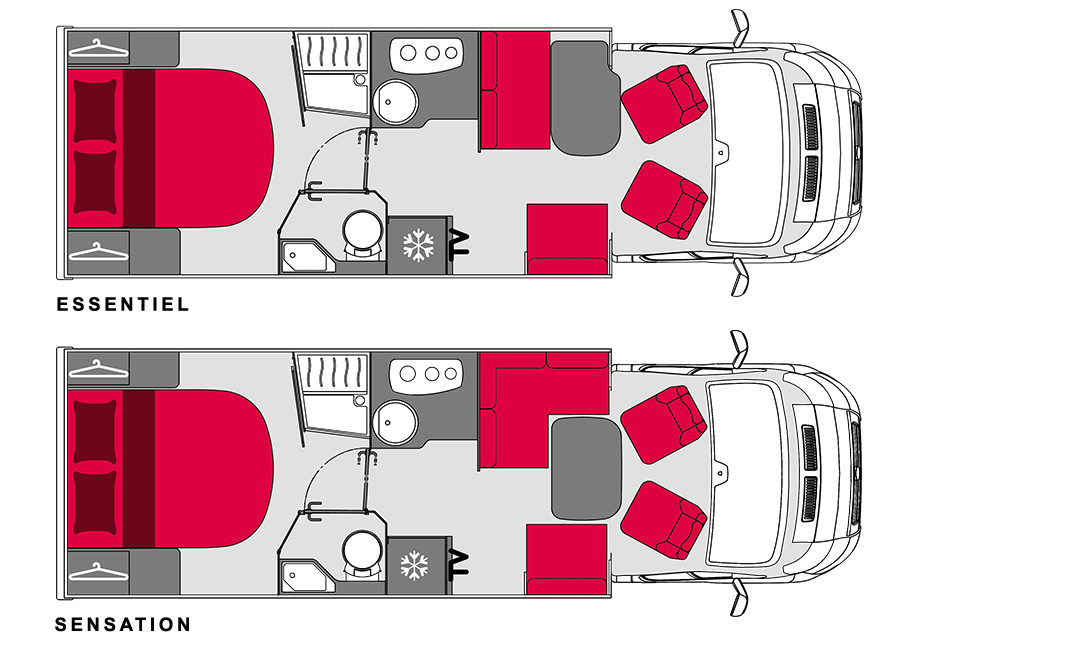 | | |
| --- | --- |
| Price including OTR (from) | £52,334 |
| Length (m) | 7.45 |
| Legal seats | 5 |
| Eating places | 5 |
| Standard berths | 2 |
| Additional berths | 2 [A] |
| Load capacity Essentiel | 600 |
| Load capacity Sensation | 550 |

| | |
| --- | --- |
| Price including OTR (from) | £52,334 |
| Length (m) | 7.45 |
| Legal seats | 4 |
| Eating places | 5 |
| Standard berths | 2 |
| Additional berths | 2 [A] |
| Load capacity Essentiel | 600 |
| Load capacity Sensation | 550 |

| | |
| --- | --- |
| Price including OTR (from) | £52,334 |
| Length (m) | 7.45 |
| Legal seats | 4 |
| Eating places | 5 |
| Standard berths | 2 |
| Additional berths | 2 [A] |
| Load capacity Essentiel | 600 |
| Load capacity Sensation | 550 |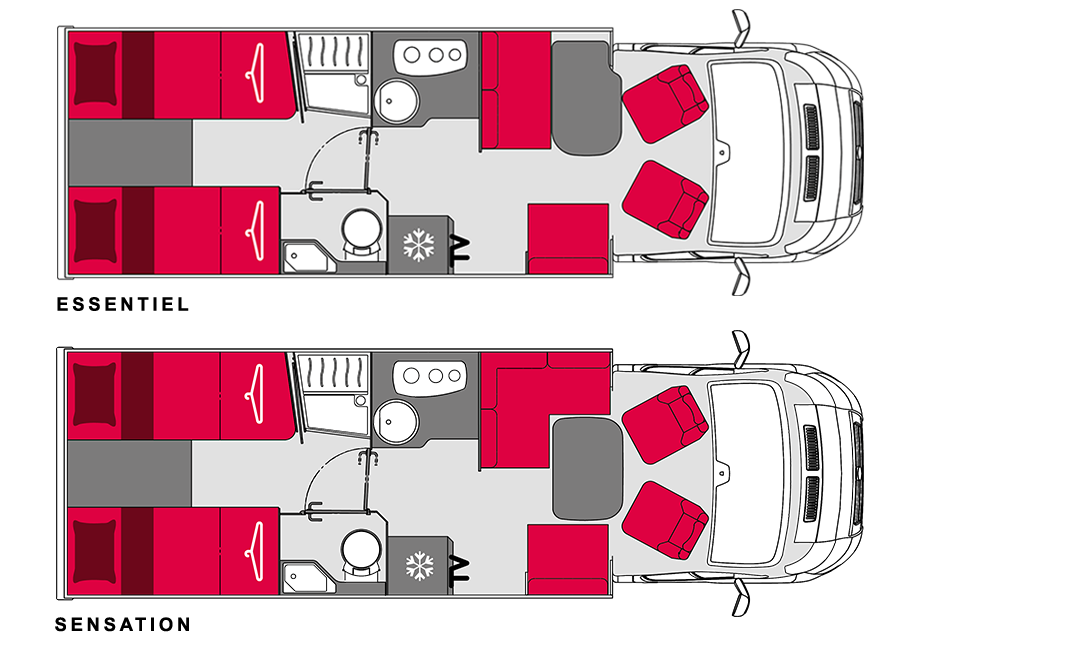 | | |
| --- | --- |
| Price including OTR (from) | £52,334 |
| Length (m) | 7.45 |
| Legal seats | 5 |
| Eating places | 5 |
| Standard berths | 2 |
| Additional berths | 2 [A] |
| Load capacity Essentiel | 600 |
| Load capacity Sensation | 550 |